1. I finally got to meet the legendary Andrew Wee.  Wee is my brother from an Asian mother.  One of my favorite moments from the show was in the elevator at the Palms.  It was me, Wee, and Boone, and some random dude gets into the elevator and starts screaming, "All I wanna know is, Who the F*** is Andrew Wee?!?".  It was hilarious.
2. The parties were off the hook. From PPC.bz & Nickycakes Paper Clique Jump Off to CX's Billionaire Party, there were some awesome shindigs at this conference.  There were affiliate nerd-core freestyle rap battles, a dance routine featuring a live python, and even some very tasty cheesecake desserts.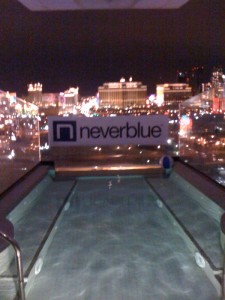 3. The check-in lines were super fast. Actually when Boone and I checked in there was no line.  That was a big improvement from last year's hour long lines.
4. The Meet Market was packed. There were 2 rooms this year, and there were bodies from end to end with tables somewhere in the middle.  If you are a network or other exhibitor, the Meet Market is some of the best bang for your buck you can get.  It's only 6 hours long, but there is serious networking to be done at this part of the event.
5. The high-caliber affiliates were out in force. I'm sure that there are always ballers at ASW, but the sheer amount of them and time I was able to spend chatting & networking with affiliates at this conference was way above average.  Definitely higher than at any of the shows I went to in 2009.
6. Time-wasters were at a bare minimum. With a couple of rare exceptions, the people that I talked to didn't waste my time.  I'm not sure if I was just better at spotting them from a distance and avoiding them this time or what, but usually I have an entire stack of cards to put in the "Do Not Follow Up" file when I get home.  Not so this year.
7. Rooms were cheap and excellent this year. I paid way too much money for a really terrible crappy room for Ad-Tech NY last year, so my expectations were already pretty low.  However, we stayed at the Gold Coast and it was awesome.  Sure, the average age of the people in the casino was 55, and the place has not been a hot spot for years, but it was about $60 a night, and it was an ideal location because it is sandwiched right between the Rio (where the convention is) and the Palms (where most of the parties were at).  No taxis needed, everything was within walking distance.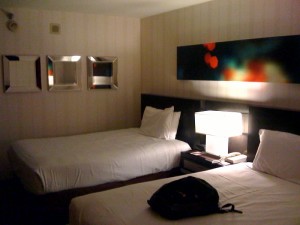 8. I didn't have to stand at a booth all day long. Having a booth can be worth it sometimes, but also it is a major pain.  You have to get up early, be at the convention all day for both days so your feet are killing you, and worst of all you have to talk to every single person that comes by your booth (i.e. time-wasters).  Not having a booth this year was nice, since I got to cruise around and network more freely.
9. Meetup202 was EPIC. It would have been worth flying out to Vegas just for the Meetup202 event alone.  It was that good.  The attendance was huge (several hundred people), Wes & the Bloosky guys put on a great presentation, and the tips at the end from the individual Meetup202 organizers from various cities were really good.  I am super proud of Wes, Steven, and the whole 202 gang for chasing their dreams and making them a reality, and super thankful for all of the hard work they have put into their software and the affiliate community as a whole.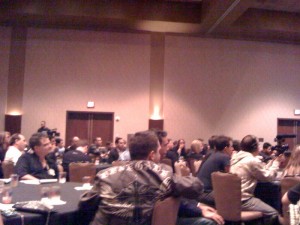 10. The wrap-up post was easy to write. I usually avoid writing these posts after a show, but this one practically wrote itself.  Affiliate Summit West is officially my favorite show of the year, and you are cheating yourself out of growing your business and having a great time doing it if you don't go in 2011.