You know the drill: Email submits; Dating offers; Rebills. We've all been promoting the same types of cost-per-action (CPA) offers for ages now. I'm not saying they aren't worth promoting, but sometimes you need to try something different to get the creative juices flowing again. For example: cost-per-sale (CPS) offers. As opposed to CPA offers, CPS offers only pay out when the customer makes a purchase. While it does take a little bit more selling to get them to take action, the nice part is that you never have to worry about not getting paid for your traffic (which is a common issue with CPA offers). There are other benefits to CPS offers as well, such as the possibility for monthly recurring commissions.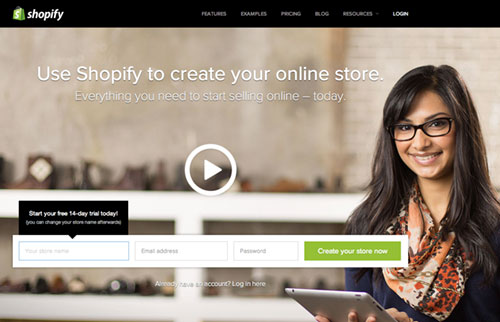 One of more interesting CPS programs I've seen lately is called Shopify. Shopify is an e-commerce service that creates online stores for their customers. They've got several different pricing tiers, targeted at small business and hobbyists all the way up to custom, enterprise-level solutions. If you are used to targeting consumers for your affiliate campaigns, Shopify will give you the opportunity to try your hand at targeting business owners instead. This is a huge niche right now, with sites like Etsy and eBay getting people interested in selling their wares online. Shopify is for people who want to take their online store to the next level.
There are several benefits to being an affiliate of Shopify:
They are a very well known brand in their niche
Campaigns can be targeted as B2B but also C2B
Unsaturated affiliate program and niche
All traffic sources are accepted
2 commission options:

20% lifetime revenue share on all customers (Recurring income!)
-or-
200% of customers first bill. Per sale commission varies depending on what plan customer chooses (Up to $358 a sale)

Commissions can increase depending on volume
It would definitely be worth doing a split test to see if you make more money by doing the lifetime revenue share option or the 200% of the first bill option. Either way, it's a very generous commission. For promotion tactics, I would try doing a review-style landing page. Perhaps you could compare Shopify to having an Etsy store, or the hassle of managing your own shopping cart solution. If you've ever tried to set up an e-commerce site, you know that it's a lot of work. Your average mom that does knitting in her free time and wants to sell her wares online is probably going to be overwhelmed with something like that. There's a perfect target for you.
With a little research, your potential targeting options and promotion angles are vast. Promoting a campaign like this could also be a good place to work on from the SEO angle. It's hard to promote CPA offers with SEO because it is more of a long-term play than paid traffic. With a program like Shopify, you can have confidence that it is going to be around for long enough to reap the benefits of an organic search campaign.
Bottom line, give Shopify a try. If you spend some time getting used to the flow of a CPS campaign, you will find that it can be a great way to smooth out the ups and downs of your CPA campaigns. You can sign up to be a Shopify affiliate here. Let me know how it goes in the comments!