Yesterday was the meeting of the Finance Committee, the group of State House Representatives that are in charge of hearing the case for and against the new tax laws increases that are on the table.  This of course includes HB-10-1193, the "Out-of-State Retailers Sales Tax" bill.  Nice name they came up for it, eh?  I liked it better when it was the "Amazon Tax".
My Sr. Affiliate Manager and I headed over to the Capitol to show our opposition, and we really didn't know what to expect.  I thought we could possibly be one of a handful of people that showed up, sealing our fate before the hearing even began.  However, as we approached the building, there was already a crowd of familiar faces gathered outside.  There were representatives from several CPA networks including Affiliate.com and HybrydAds, and a bunch of affiliates as well.  All in all there were well over 100 people that turned out in opposition of the bill.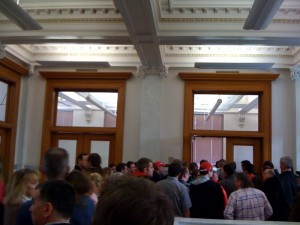 The initial plan was to get into the hearing room, sign the sheet in opposition so we could be counted, and then stay for the hearing to see if anything interesting happened.  Unfortunately, after 2 hours of debate, the Finance Committee was not even half way through discussing the first bill on the list, and HB-10-1193 was the 5th in line.  I ended up leaving to get back to work once my name had been added to the opposition list.  I heard today that the Committee was in session until 2 a.m. and they still hadn't got through all of the bills on the list.
Long story short, the Committee passed the bill on to a final vote by the Colorado State House of Representatives.  That should be happening either tomorrow or early next week.  The next step is to do another email blast of the House Democrats to try and sway them.  The House Republicans are already voting in opposition of all the bills that are tax increases.
If you want to help, let me know before about noon tomorrow (Friday) and I will get you the list of House Democrats to email and otherwise harass.  The battle rages on!