1. When People Press "Make My Bid Highest" on TrafficVance
Like I said in another post, this is the absolute dumbest thing you could ever do. Every time you hit that button on TrafficVance, you are raising the bid price by 5x higher of an increment than is necessary. There's nothing worse than logging in to check my targets and seeing that I have been outbid by $0.005, because I know exactly what caused it. Stop the madness now!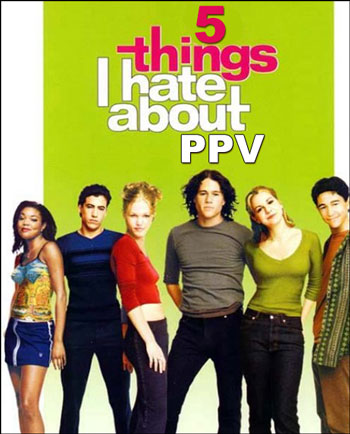 2. Waiting for Ads To Be Approved
It can be very frustrating waiting for your ads to be approved by the PPV network, especially with Lead Impact. At least with TrafficVance or DirectCPV, if you are very impatient you can hit up your rep and tell them to approve it. With Lead Impact though, you are stuck waiting for up to 72 hours or longer. That makes me pull out my hair.
3. A Great Converting Target with Barely Any Traffic
There are lots of little gems out there in the world of PPV targets. Great URLs and Keywords that convert like white hot fire, with an ROI of over 1,000%. The only problem is they only get one or two views a day. There is absolutely no way on earth to fix this, but they are always there tantalizing you with the promise of ridiculous profits.
4. PPV Networks Don't Allow Download Offers
Before you start jumping down my throat, yes I know that some PPV networks somewhere do allow some download offers. But my favorite ones still like to deny my favorite kind of download offers: the very profitable ones. So that leaves me either trying to run some lame download offer that maybe might work, or running with a lesser PPV network that maybe might work. It's not worth the hassle.
5. Bid Prices Can Be Ludicrously High On Competitive Targets
It's no secret that PPV isn't the cheapest form of traffic on the planet. Even at the minimum bid of $0.01 per view on TrafficVance, you are still paying $10 CPM. That is a very high price in the world of display advertising. But when people start bidding $0.40 or more per view on a target, you are talking about a $400 CPM. That is insanity! That's not to say that there aren't some offers that could still be profitable at a bid of $0.40, it's just that a lot of times these bids are driven up by people who are losing money hand over fist and have no idea what to do about it.
So there you have it! My list of 5 things I hate about PPV. Be sure to take these all with a grain of salt, because as I'm sure you know, I love PPV. It's my favorite type of traffic and that's not going to change anytime soon. But if I could have 5 wishes come true for Christmas, it would be to change these things.